Furever After Rescue
P.O. Box 7075
Macon, GA 31209
(478) 714-5638
fureverafterrescuega@gmail.com




**Please note that if you are contacting us in the hopes of surrendering an animal to our organization, there is an owner surrender request form under the "MORE" tab above. We will not respond to any surrender requests made via the contact form to the left.
Wish List
Our Chewy Wish List can be found here!
This wish list contains affiliate links, and Furever After Rescue will benefit and/or be compensated if you make a purchase after clicking on these links.
Would you like to donate? The following are a list of commonly needed items that we use to keep our rescue running or, if you prefer to donate money for vetting expenses, you can use the link above.
Please contact us if you would like to donate. Any donation, no matter how small, makes a huge difference! Thank you for your support!
Paper Towels
Puppy Pads
Baby Wipes
Hand Sanitizer
Dog Food- 4Health, Pedigree Puppy, Pedigree Adult, etc.
Leashes & Collars-All sizes
Harnesses
Canned Goat's Milk
Cotton Towels
Blankets
Dog beds
Crate Beds (see some options here)
Crates
Dog Houses
Outdoor Kennels
Bowls​


Meet our Staff
President- Brittany Smith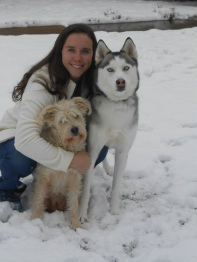 I have always had animals and a love for animals. Growing up, my family always picked up strays to help them and brought them home. When I moved to Macon for law school, I started working for a local pet store. The employees were invited to an adoption event at Riverside Ford where I fell in love with the rescue world. I got my first foster pup that day... well, actually, I got two! I loved fostering so much, as well as the adoption events, that I wanted to be more involved. At another event, I was asked to be on the board of a rescue group here in Macon and was thrilled! I worked with that rescue for close to a year and decided that this was my passion and I wanted to make as much of a difference as I could, so Furever After Rescue was born and I am so excited to go on this crazy journey with my fellow staff members and fosters!
---
Vice-President- Carla Brame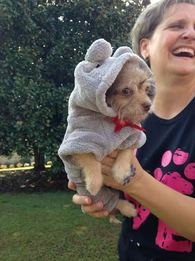 I had dogs of all types growing up. There was always some kind of animal around. I saw a stray on the streets of Macon in January 2011, and a friend and I rescued her and took care of her vetting and boarding until we could not afford it anymore. My friend kept her at her house until we found a great home for her (better than ours) and we get updates on her all the time. Since that day, I have helped out where and when I could with rescue dogs, even driving 3 hours to pick up a foster in North Georgia from a high kill shelter. I fostered my first puppy (bottled fed) in January 2012. I was asked to serve on the Board of a rescue in Macon and had to think about it at first because I did not want to take away from my work with other animal rescues here in Georgia, but it did not interfere. When I was asked to be Vice President of Furever After Rescue, I accepted the position and am so glad that I did. I have foster failured two dogs since I have been with Furever After. Ever since that day in January 2011, I have done what I can to help the rescues around this area and I will keep helping for as long as I can.

---
Treasurer- Julie Norwood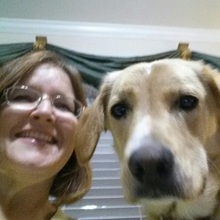 I come by my rescue activity through genetics. We always had dogs growing up, and my mother was always bringing home dogs she picked up from the side of the road... She was always able to either find the owners or find just the perfect home if the owner couldn't be located... She even tried her hand at officially fostering, but she ended up keeping both of her fosters!! A couple of months after one of my furbabies and my sister passed away in one week, I started looking at rescue pages trying to decide if I needed to add to my family or if I needed to get involved and perhaps start fostering for a rescue. I saw online that Furever After was having an adoption event at Tailspin. I walked in the store and found a group of women having a lot of fun doing something they were passionate about... and a little golden retriever mix puppy... The rest is history.. I became a foster AND adopted the puppy, and haven't looked back.
---
Fundraising/Donations Director-
Lea Murphy

Alumni Director- Susan Nixon


I grew up with dogs. All my sister and I had to do was get it into my dad's arms
and let him cuddle with it. Once he named it, it was ours. But we never abused
it... well, maybe once... or twice. LOL. I've always been good at talking to
people and fundraising. So I decided to put my skills to use helping FAR raise
funds for all our fur babies' needs. The bonus to helping out such a great group
is the cuddle time I get with all the babies.

---

I have always had pets for as long as I can remember. My work in rescue began in 2011; my very first foster was an American Bulldog that was pulled from a high kill shelter in Georgia. I was hooked… and have been fostering ever since. The dog in my picture is Sweet Pea, a Rat Terrier, who we spent a good couple of months trying to catch. I fostered her for a few months until she was adopted and I still get to see her on occasion. I have a fondness for smaller dogs, so find myself fostering them most often.

---